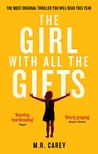 The Girl with All the Gifts
by
M.R. Carey
My rating:
5 of 5 stars
Melanie is a special girl. A special girl that just wanted to be normal, to be accepted, to be loved. She started off like every other kid in her class, but Ms Justineau gave her strength and the will to want more, to go for what she believes and be more than what the doctor says.
This is a really good book that is told from Melanie's POV. What she hears, what she feels, and what she wants. We grow each day and learn so much with Melanie. So as far as the reader goes, you know she's different. You will find yourself loving Melanie, question the choices she makes and understand why being her is so difficult. At every turn, someone wants to take her life, and every time you want Melanie to win and over come her fears and the people who put fear in her, who thinks of her differently than what she believes. She is still a child
but a very very smart one. To not spoil but hint, she's the most dangerous and most valuable and precious person Ms. Justineau will ever come to love.